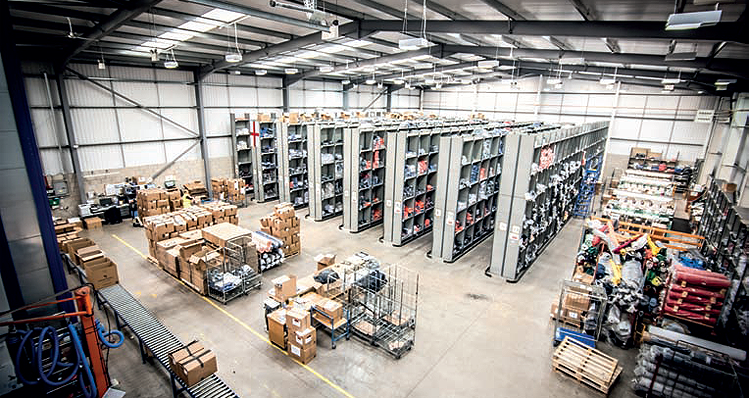 A winning mix
Founded in 1939, specialist manufacturer of workwear Wearwell has traded through wars and now a pandemic – and one area that has helped support its success, is the company's dedication to manufacturing in Great Britain
Founded over eight decades ago, the Wearwell we see today has evolved through management buy-outs, new owners, updated factories, and changing market trends. The company as it stands in 2020, is now owned by Richard Wright and Rockpool Investments, and mainly manufactures heavy workwear for the 'lease and laundry' sector. Ross Gard, Marketing and Product Development Director, explained that a majority of Wearwell garments are sold to companies who rent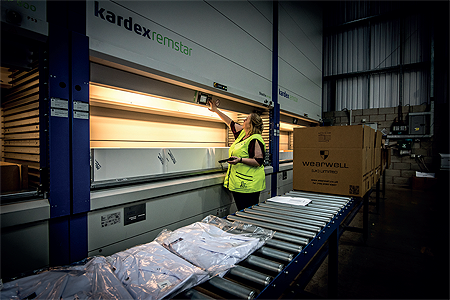 or lease garments into a company, along with a wash contract. "Our garments are used in a wide range of industries such as molten metal, engineering, the utilities sector, as well as food manufacturing," he added. "Working with the majority of laundries, who supply workwear via the lease and lauder model, means we have supplied workwear to a number of high-profile blue-chip companies as well as direct to clients such as RWE, who own NPower."
Given the credentials of its customer order book, Wearwell's service offering has to meet exacting standards of not just quality, but also flexibility and choice, and as Ross highlighted this is achieved through its somewhat unique approach. "We very much still manufacture here in the UK from our site in Tamworth, this allows us to provide a very fast response time to clients who need orders quickly! We also manufacture in North Africa, which is our middle option – it's cheaper than the UK, but it's not as fast. Finally, we also offer a Far Eastern option where we offer clients who are price sensitive, but time rich, the same high-quality experience as if dealing with the UK."
Ross credits the company's British manufacturing capability and resulting speed of delivery as a cornerstone of its success: "None of our competitors have UK manufacturing on Wearwellthe scale that we do," he asserted. "In the late 1980s/early 1990s a lot of companies took their business offshore to Eastern Europe and the Far East, at the time Wearwell was committed to UK manufacturing employing some 115 seamstresses. We felt there was an opportunity to continue to support the lease and laundry sector by supply good quality garments quickly, and that is how we have grown the business over the years."
He continued: "We are, to this day, still committed to UK manufacturing, we design, manufacture and distribute our garments from our Tamworth factory and it is a real selling point for us. Clients regularly visit the factory to see what we can do, to see our equipment and facilities, and to see the garments being made by our seamstresses. It fills them with a sense of confidence and trust when they can see what we do and how we do it."
With its UK manufacturing base and also a history of manufacturing medical garments prior to the trend of offshoring, Wearwell was ideally positioned when the Covid-19 pandemic hit the UK and the NHS needed thousands of additional scrubs. Ross noted that "traditionally there has been a lot of red tape involved with supplying the NHS. Wearwell used to be a direct supplier to the NHS but we found the price of our UK made garments couldn't compete with cheaper offshore alternatives, however, during these difficult circumstances the UK government relaxed the rules to allow additional suppliers, such as Wearwell, to supply much need PPE." As a result, the business was approached by several NHS trusts. "We ended up manufacturing around 30,000 scrub sets a week pretty quickly for different trusts. At the time we were lucky we had fabric in stock, and our close relationship with our UK supply network meant we were able to procure fabric quickly. But it wasn't just the NHS we needed to support, we also manufactured a lot of food trade workwear and those industries were designated critical workers early on in the pandemic, so we flew into action manufacturing workwear for those companies who continued to work throughout the lockdown," he explained.
Amazing team spirit
The decision to stay open during the pandemic wasn't taken lightly by Wearwell – the company knew that it would be called upon at some point during the pandemic, but orders were slow to materialize and the management team were keenly aware of the safety requirements of its own staff. " After many round table discussions, the management team went to the shop floor and we asked the staff what they wanted to do," said Ross. "We explained the situation to them and told them that we believed in the coming weeks we would be needed by the NHS. We asked them what they wanted to do, stay open and answer the call when it came, or shelter with families until it was safe to return. The response was overwhelmingly supportive – they wanted to stay open.
"As a management team it was then down to us to best manage the safety aspects around the business. We made it clear that no one would be forced to come to work if they didn't feel safe, and that we would do everything we could to ensure their safety. We met with the shop floor twice weekly to update them on any government guidance we had received and to listen to any concerns they had. It was a surreal and heart-warming experience to know that the factory floor wanted to stay open and help support the NHS, we just need the orders!
"When the NHS orders did then start to come in, the next issue we faced was fabric supplies. While we had some fabric on the shop floor, we needed a lot more to fulfill all the orders! Working closely with our brilliant UK fabric suppliers up in Manchester we were able to secure enough fabric for the first wave of orders. Unfortunately, they had a terrible turn of fate as one of their fabric stores caught fire wiping out a large amount of stock. As a result, we set about supporting them in any way we could which included renegotiating with the NHS on specific garment colours and fabrics– given these were quite desperate times, we were able to work out a solution that meant they were happy with the newly proposed fabrics.
"It certainly was a challenging time, not only did we have the safety of our staff in the forefront of our minds and the potential supply issues but we were working double shifts of over 12-hour days, 7 days a week to get these scrubs to the front line. I remember there was an overwhelming feeling that we didn't want to let anyone down."
Working in an atmosphere that Ross describes as 'as close to what I imagine a war time spirit to be', the staff at Wearwell rose to the challenge that was presented to them, not only through amazing levels of production but also on a personal level. "There was an amazing amount of kinsmanship throughout the pandemic – whether on the shop floor or simply in providing extra mental support to one another. The company was able to help as well by placing orders on behalf of the staff for essentials like nappies, milk and loo roll, it became a real family spirit with an added can-do attitude.
"Working in marketing often means I don't get to spend much time the shop floor talking to the staff, but during the pandemic I really got to know them. What was nice to hear was that they felt they had gained an immense sense of purpose which I can honestly say energized the whole management team."
Thanks to Wearwell's efforts in manufacturing the scrubs, further opportunities to supply the NHS began to materialize: "We were approached by University Hospitals Birmingham NHS Foundation Trust (UHB) one of the largest teaching hospital trusts in England, to produce and supply surgical gowns," said Ross. The gowns will be delivered to The Birmingham Hospitals Alliance (BHA), which looks after UHB, Birmingham Women's and Children's NHS Foundation Trust and the Royal Orthopaedic Hospital NHS Foundation Hospital.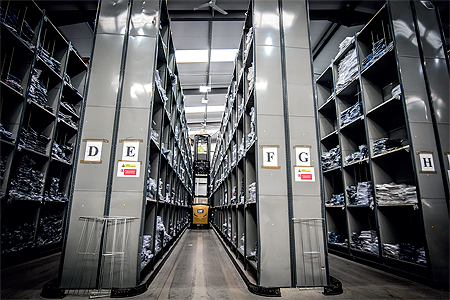 The contract win came about after BHA's central procurement team realized it was unable to continue relying on international suppliers and the central supply chain. It took matters into its own hands to form a working group and selected Wearwell, amongst other local manufacturers, to produce and supply up to 20,000 high quality surgical gowns per week for NHS Trust use. The gowns will be used as both PPE and for use in operating theatres.
Special relationships
As a result of the contract, Wearwell invested circa £60,000 – £80,000 in state-of-the-art sonic welding machines, as the gowns are created from a fabric that the company wouldn't conventionally use. While looking like a traditional sewing machine, they use certain frequencies to fuse non-woven fabrics together, rather than traditional stitches. "If we had used traditional sewing methods on these gowns it would mean punching holes in the fabric, and the gowns need to be waterproof to minimize exposure to liquid," said Ross. "We could have sewn the gowns, then sealed them using a taped seam, similar to a waterproof jacket, but there aren't many of those machines in the UK. We opted for sonic welding as this provided the best solution, especially since other manufacturers in the UK already use this technology, meaning the NHS was able to approach other manufacturers who wouldn't necessarily make workwear, but who have the right machines that can be repurposed. Since the first order landed, we've ordered an additional three sonic welders and two additional stampers specifically to help the NHS on this. They are due to be installed in the coming weeks as we ramp up our production."
The contract requires two different types of gown – non-sterile and sterile, both using the same non-woven fabric. "Our focus is on getting the non-sterile 20,000 disposable patient gowns right, and then moving on to the sterile gowns in Phase 2. The sterile gown has a bonded fabric on the front of the garment, offering additional protection to the wearer. After we have made them, we send them for sterilization. Finally, they are sealed in a clean environment before they are sent into the NHS," added Ross.
Ross praised his suppliers for how supportive they have been throughout the pandemic period. "As a business, we have been working with a lot of our suppliers since our inception, so we know them on almost a personal level. Having a special relationship like this has meant we were able to secure supplies of fabric and other items quickly with an understating of urgency.
"We had daily calls to suppliers where we would update them on what we were working on and they in turn let us know stock availability, work in progress and any foreseeable hurdles in supply. As you can probably imagine, there aren't that many suppliers who can supply hundreds of thousands of meters of medical fabrics, especially when demand shoots through the roof as a number of fashion textile manufacturers also turned to manufacturing scrubs. Lucky for us, our relationships put us in a great position as we were able to able to move quickly, out pacing other manufacturers."
As the lockdown rules are gradually relaxed, production at Wearwell carries on at pace, and Ross believes that the epidemic has highlighted some weaknesses in offshore supply chains that the business is ideally placed to support. "In my opinion, the UK manufacturing sector has shown that should another pandemic arise, then having a strong British manufacturing sector is essential to not only the supply of PPE but in the supply of essentials such as food. The Government's recent announcement that around 20 per cent of all PPE will be manufactured in the UK by the end of the year is fantastic news for our industry and very encouraging.
"I'd like to see British manufacturing not only survives this pandemic but thrives as a result of it and I hope more businesses come along and start manufacturing back in the UK as well. There is something intensely satisfying about taking a concept and making it into something real and tangible. I can't quite put my finger on it, but there is bit of magic about seeing creativity coming alive."
Going forward, Ross also sees a greater value being placed on products to be 'Made in Britain'. "I am already seeing and hearing of people saying they want British made products, and whilst I'm not sure if this will last the distance, as price is usually one of the biggest factors in the decision-making process, it's great that it's becoming a consideration. Let's say 20-30 per cent of people decide they want to buy British-made products, that's still a big deal. That number alone can have a huge impact on job creation here the UK especially when it seems like jobs are vanishing on a daily basis. It also has the knock-on effect of lowering our carbon footprint – for me I see that as being part of a winning mix for the future."
Wearwell
Products: Specialist workwear
www.wearwell.co.uk