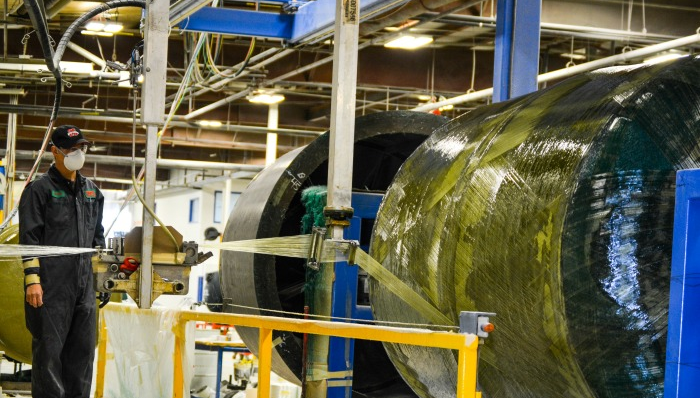 ZCL Composites has become a leading North American designer, manufacturer and supplier of cost-effective fiberglass-reinforced plastic (FRP) storage tanks since it was founded in 1987. Serving a variety of industries from retail fuel handling to rainwater collection, the company has built a strong reputation for long lasting, quality products and exceptional customer service.
ZCL Composites supports four key market areas – fuels, industrial, water and wastewater, and oil and gas. Specializing in double-walled FRP underground fuel tanks, the Canda-based company's products are designed to safely handle and contain hazardous materials like petroleum and diesel fuels, diesel exhaust fluid (DEF), wastewater and industrial chemicals.
And according to Vice President of Manufacturing, Shawn Roach, this may be just the beginning.
With a strong start to 2017, the company continues to focus on growth in emerging water and wastewater sectors through the evolution of single wall tank technology. ZCL water conservation and collection systems support sustainable infrastructure development, while potable water storage units, grease interceptors, and wet wells provide corrosion resistant solutions for an increasingly diverse array of municipal, residential and commercial applications.
"Industries that rely on our products never stop evolving, never stop diversifying, and for me, the composites space has always presented great opportunities for developing innovative and entrepreneurial solutions," says Roach, who recently joined ZCL Composites in early 2016.
With the company's 30th anniversary approaching in September 2017, Roach looks forward to leading this ongoing development with the support of his experienced colleagues at ZCL.
"It's incredible – I'll be sitting across the table from three people who have a combined tenure of 120 years of knowledge of making tanks," Roach says. "If you bring that knowledge together with the organization's willingness to adopt new practices, new technologies, and new processes, the possibilities for us – and for our customers – are very exciting."
Over the years, ZCL Composites has developed a broad customer network across North America. In the fuels market, customers include a number of "big box" retailers, large convenience store chains, truck stop operators, and equipment distributors while exploration and production companies comprise a large segment of oil and gas clients. ZCL also works closely with architectural and engineering design firms as well as contractors and municipalities to provide cost-effective water and wastewater solutions.
According to Roach, the benefit of market diversity goes both ways. "Our wide range of customers is great – it means we get to support more business, and it also helps our business better withstand economic and industrial fluctuation. When markets are up, so are we; when others are down, we know we've got support."
Setting Standards
When it comes to delivering products that stand out from their competition, ZCL Composites relies on the unique advantages of their materials and manufacturing.
The company manufactures its tanks using only the highest quality fiberglass composite materials. Compared to the more traditional concrete and steel storage tanks built by many of their competitors, ZCL's products are lightweight, long-lasting, and corrosion resistant, making them a preferred choice for many of today's fluid handling and containment experts, Roach notes.
"The way we manufacture our tanks is also unique to this type of business," Roach explains, "because ZCL uses a female molding technique."
In the typical male mold manufacturing process, the reinforcement ribs are laminated separately to the outside of the tank, while ZCL's method builds the ribs into the structure of the tank, giving the product superior strength, according to Roach.
"Filament winding or male mold fabrication enables us to provide solutions for an even broader range of customer-specified product demands. For example, certain aboveground vessels, like flare knock-out tanks are designed and tested to withstand immense pressure, their exteriors wound with highly durable fiberglass strands, Roach says."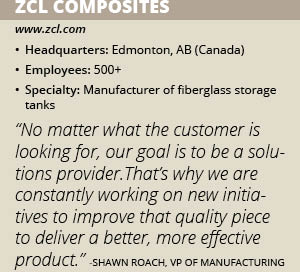 By utilizing Parabeam 3D Glass® technology, ZCL Composites has also developed an advanced leak detection system, a key component of their double-walled tank design.
"We acquired Parabeam in 2002, and it's something that is quite unique to our business," says Roach. "The three-dimensional glass fabric embeds interstitial technology directly into the tank wall, resulting in reliable and highly accurate approach to remote pressure and leak monitoring. It reduces risk and helps protect the environment. Period. Our customers know we don't compromise when it comes to the important things."
Responding with Solutions
Though ZCL Composites rarely overhauls its product line, it offers product customization to meet specific customer needs. "No matter what the customer is looking for, we really want to be a solutions provider," Roach says. "That's why we are constantly working on new initiatives to improve our quality so we can deliver better, more effective tanks."
Where possible, the Edmonton, Alberta-based company focuses on building tanks for expected, pre-approved orders while developing selective inventory to reduce project lead-times and increase efficiency during busy seasons, according to Roach.
"You can imagine that for the tanks that need to be installed underground, those projects are deferred during the winter season," he explains. "Sometimes companies that are behind on project schedules will ask for tanks immediately. We're often able to deliver those tanks in a relatively short period of time, which has been a huge factor in customer retention – we are getting customers what they need, when they need it."
Keys to Success
ZCL Composites has more than 550 employees at its six North American manufacturing locations. With two plants in Canada and four in the United States, this dedicated workforce directly contributes to the company's success, according to Roach.
"It's our staff's willingness to do what's right and take pride in what we do that gives us the capacity to adapt our business to meet market needs," he explains. ZCL Composites also attributes its strong employee base to its onboarding process, which focuses on competencies and competency development through optimized development opportunities.
"Part of our success strategy is developing the right culture – one of operational excellence – for the business," Roach says. "We want to effect all levels of the organization. That's why we launched ZCL University as an institution within ZCL Composites focused on building training programs that support staff development at every level of their career. All employees are able to take courses from onboarding to continuing education. It also encompasses succession planning and knowledge transfer. Eventually, we would like to offer self-study guides and online virtual classes that are instructor-led."
ZCL is a company that values people – customers and staff – first and foremost. The company's supplier relationships are no different and play an integral role in ZCL Composites' success. "Our suppliers aren't just suppliers to us," Roach says. "We really lean on them for support. To us, they're crucial business partners who help us optimize the right networks to deliver the best solutions."
At the end of the day, its customers are the core of ZCL Composites, and the company measures its success through their satisfaction and peace of mind, Roach concludes.
"You can go into some organizations and they say it, but you don't always feel it," he says. "Since I've been with ZCL, it's been so motivating to see how these values resonate within my work, and the work of everyone around me. Our business truly puts customer needs at the highest level, and I'm proud to be a part of that."