Zodiac Seat Shells & Zodiac Cabin Interiors U.S.
---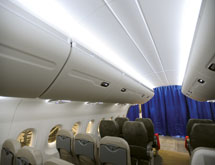 It's said that success changes people, but it can also change companies. In the case of C&D Zodiac Inc., success not only changed the firm, but also resulted in it being split in two, Paul Wile says.
The firm, which manufactures aircraft interior products, is part of Zodiac Aerospace, a France-based provider of aerospace equipment and systems. In 2012, C&D Zodiac experienced growth with the sales of its composite seat shells business, which form the environment of business class seats on planes.
"Demand [for the shells] exploded in the industry," Wile explains. "Zodiac managed a successful and long-running composite business and thought it would be a great [increase to] seat shell business in this area." 
---